About Rava Kesari Recipe
Kesari Bath, or Rava Kesari, is a simple and healthy dish. It has different names in different regions. In Andhra Pradesh, it is called Ravva Kesari or Rava Halwa, and in Bangalore, it is called a Kesari bath. It's a popular and traditional dish in Karnataka. In particular, this will be seen frequently in Bangalore hotels and restaurants.
Since we lived in Bangalore for a few years, we used to order this dish a lot in hotels, so consistently it has become our family's favorite dish. We have different varieties of baths prepared with rava, which include the chow-chow bath, also called the kara bath or tomato bath, and the Kesari bath, which is Rava Kesari.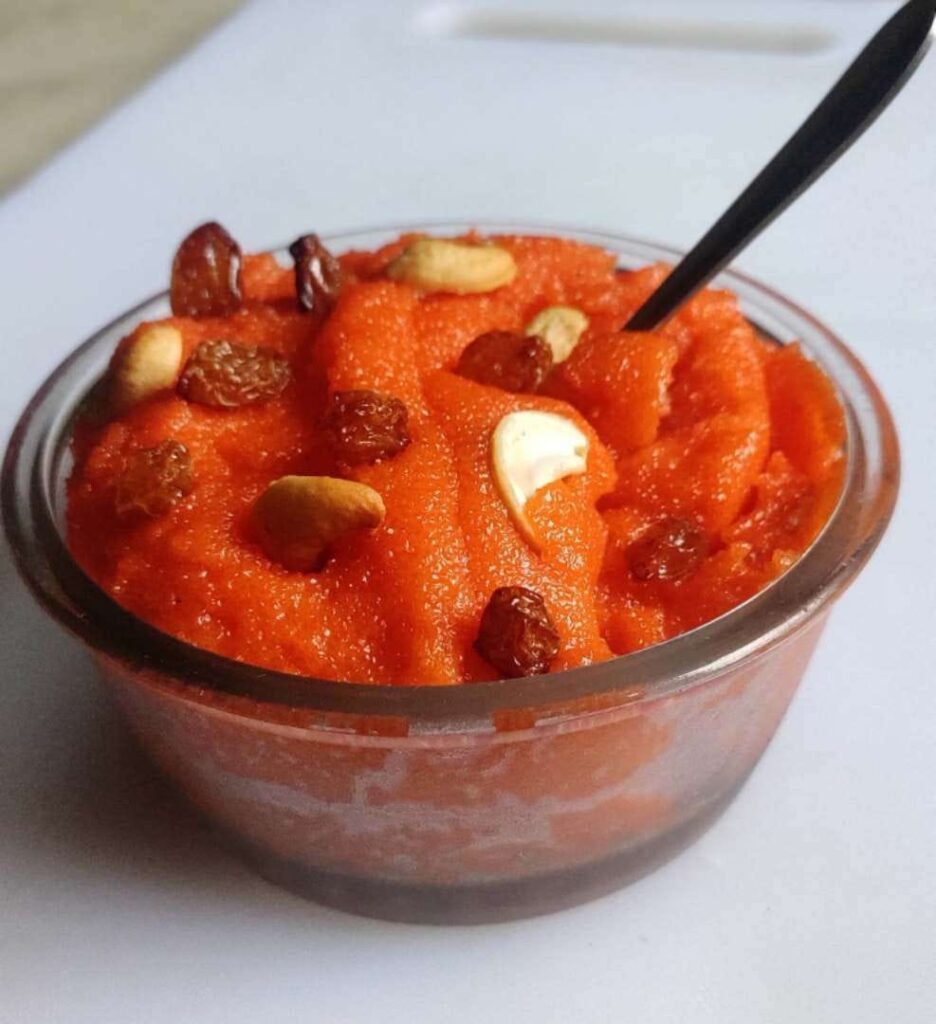 If we serve this to children, they will love this taste and gradually they will be addicted to the taste of the Kesari bath. It also contains a lot of nutrient values, since we are adding milk and Bombay Rava, it contains lots of calcium and carbs.
It will help children for healthy weight gain and we can feed babies frequently with this bath if they get bored eating other food items. We can also serve this dish to nursing mothers and pregnant ladies. Since it contains lots of milk and ghee, it will be helpful for them to breastfeed newborn babies.
Buy Best Sooji Rava for Kesari Online
Rava Kesari recipe preparation time
mostly it will take 20 to 30 min
Ingredients Kesari bath:
1 cup of Bombay Rava
1 1/2cup of sugar
1 cup of Fried dry fruits
1/2 cup of ghee
1 cup of milk
1 cup of water
3 no of cardamom powder (ilachi) optional
1/2 spoon of food color
Nutrients of Kesari bath:
Milk – calcium
Rava- carbohydrates
Ghee – unsaturated fatty acids
Dry fruits- vitamins, minerals
How to make Rava Kesari bath with milk
Take a Kadai and add 1 cup of suji ( or) Bombay Rava. Now fry the Rava till it gets golden yellow color.
Now take out the fried suji into a bowl, add 1 cup of water, and 1 cup of milk into Kadai, and allow it to boil.
Now take the fried suji and add slowly to the boiling milk and water mixture. Stir the mixture continuously while pouring suji into Kadai to avoid lumps while preparing halwa.
Now reduce the flame to sim, and allow Suji to cook properly. After suji has boiled nicely, Now add 1 1/2 cup of sugar into it and stir continuously until the sugar gets dissolved.
Now take 1/2 tablespoon of red or orange food color and dissolve the food color in 2 spoons of water and pour the color mixture in suji and give it a mix.
it's is completely optional, if you want to add food color or not. if you want to go with natural food color you can also use Safranin.
if you want to taste this dish with pineapple cuts, you add yellow food colors rather than other food colors.
Finally add 1/2 cup of ghee and fried dry fruits, and cardamom powder into the suji mixture and mix the mixture vigorously.
Now the Kesari bath is ready. Take out the Kesari bath from Kadai and pour the bath into the serving bowl and serve the Kesari bath.
If you want you can add some extra dry fruits to the Kesari bath for garnishing.
If you want, you can have it when it is hot or allow the mixture to cool and put it in the refrigerator.
If you want, you can also add some fruit cuts like pineapple and apple cuts into this Kesari bath mixture while preparing it to make the bath more delicious.
Note: If you want any flavors to the Kesari bath, you can add any essence as per your taste like Vanilla or pineapple essence, it will add more taste to your halwa.
Video version for preparing the Rava Kesari with milk.
It is called Temple-style Rava Kesari or Sooji Halwa Recipe (Semolina Kesari).