పార్వతి దేవి (అమ్మ) మనకు బాగా తెలిసిన శక్తి మాత. మన హిందూ సంప్రదాయాలలో ఈ దేవతకు పూజలు ఎల్లప్పుడూ చేయడమనేది చాలా సరళం. అమ్మని ఎల్లప్పుడూ పూజించుట వాళ్ళ మనకు అన్ని అనుకున్నట్టు జరుగుతాయి. ఈ శక్తీ మాత కి మనకు తేలియానాన్ని పేర్లు ఉన్నాయి, ఏ పేరుతో పిలిచినా అమ్మ పలుకుతుంది మనల్ని కరుణిస్తుంది. ఇక్కడ మనుకు తెలిసిన కొన్ని పేర్లతోపాటు తెలియని కొన్ని పేర్లను ఇక్కడ ఈ "Parvathi Devi names in Telugu" లో చూద్దాము.
The most vicious female Hindu deity is Durga Maa. The supreme being's power is represented by Goddess Durga. In the guises of Kali, Parvathi, and Ambika, she is worshipped. The image of Durga Maa shows her riding a lion or tiger, having eight arms that hold weapons and a lotus flower, smiling meditatively, and using mudras.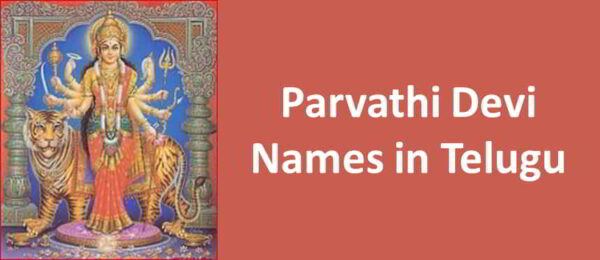 Parvathi Devi names in Telugu (పార్వతీదేవి యొక్క కొన్ని పేర్లు)
పార్వతీదేవి
ఉమ,
కాత్యాయిని,
గౌరీ,
కాళీ,
నారాయణి,
అంబిక,
ఆర్య,
దాక్షాయణి,
గిరిజ,
మేనకాత్మజ,
ధేనుక,
భార్గవి,
శారద,
జయ,
ముక్కంటివెలది,
హైమవతి,
ఈశ్వరి,
శివ,
భవాని,
రుద్రాణి,
శర్వాణి,
సర్వమంగళ,
అపర్ణ,
పార్వతి,
దుర్గ,
చండిక,
భైరవి,
శాంభవి,
శివాణి,
కాళి,
శ్యామ,
లలిత,
అమ్మ,
భగమాలిని,
మాతంగి,
మాణిక్యాంబ,
శతాక్షి,
శాకంభరి,
అమ్మల గన్నయమ్మ,
ముగురమ్మల మూలపుటమ్మ,
పెద్దమ్మ,
సురారుల కడుపారడి బుచ్చినయమ్మ,
మహిషాసుర మర్ధిని,
పరమేశ్వరి,
ఈశ్వరి,
మహేశ్వరి,
బాల,
చాముండేశ్వరి,
శతాక్షి,
శాకంభరి,
కనకదుర్గ,
రాజరాజేశ్వరి,
శ్రీదేవి,
త్రిపుర సుందరి.
Parvathi Devi names in English words
You can name your baby girl with one of the names of the powerful goddess Parvathi Devi. Some of the names are given below.
Parvathi Devi
Uma,
Kaathyaini,
Gouri, Khali,
Narayani,
Ambhika,
Aarya,
Dhakshyayani,
Girija,
Menakathmaja,
Dhenuka,
Bhargavi,
Sharadha,
Jaya,
Mukkantiveladhi,
Hemavathi,
Eeshwari,
Shiva,
Bhavani,
Rudhrani,
Sharvani,
Sarvamangala,
Aparna,
Parvathi,
Dhurga,
Chandika,
Bhyravi,
Shambavi,
Shivani,
Shyama,
Lalitha,
Amma,
Bhagamaalini,
Maathangi,
Manikyamba,
Sathaakshi,
Sakhambari,
Amala gannayamma,
Muggurammala mulaputamma,
Pedhamma,
Suraarula kaduparadi bhuchinayamma,
Mahishasura mardhini,
Parameshvari,
Eeshvari,
Maheshvari,
Bhala,
Chamundeshvari,
Sathakshi,
Sakambari,
Kanaka durga,
Rajaraajeshvari,
Sridevi,
Tripura sundhari.
Related information about Goddess Parvathi Devi
In Hindu literature, Parvati is referred to by numerous names. She is also known by the names Shailaja (Daughter of the Mountains), Adrija (also known as Nagajaa or Shailaputri), and Haimavathi (Daughter of Himavan), Devi Maheshwari, and Girija (also known as Girirajaputri; Daughter of the King of the Mountains).
Indian-born name Parvati, which means "Daughter of the Mountain," is primarily given to females. The goddess of love, devotion, and fertility in Hinduism is known as Parvati. She is one of the main deities of the goddess-focused Shakta sect and the softer, more maternal side of the Hindu goddess Shakti.
హిందూ సాహిత్యంలో, పార్వతిని అనేక పేర్లతో సూచిస్తారు. ఆమెను శైలజ (పర్వతాల కుమార్తె), అద్రిజ (నాగజా లేదా శైలపుత్రి అని కూడా పిలుస్తారు), హైమావతి (హిమవాన్ కుమార్తె), దేవి మహేశ్వరి మరియు గిరిజ (గిరిరాజపుత్రి అని కూడా పిలుస్తారు; పర్వతాల రాజు కుమార్తె) అనే పేర్లతో కూడా ఆమెను పిలుస్తారు.
భారతదేశంలో బాగా తెలిసిన పేరు పార్వతి, దీని అర్థం "పర్వత కుమార్తె", ప్రధానంగా ఆడవారికి ఇవ్వబడింది. హిందూ మతంలో ప్రేమ, భక్తి మరియు సంతానోత్పత్తి కి మరోరూపమైన దేవతను పార్వతి అని పిలుస్తారు.