The meaning of Nanju in English changes as per the regional languages of India. The Single word nanju gives several meanings even in a single language. Some of the meanings of Nanju as per Telugu, Tamil, Kannada, and Malayalam have been given below.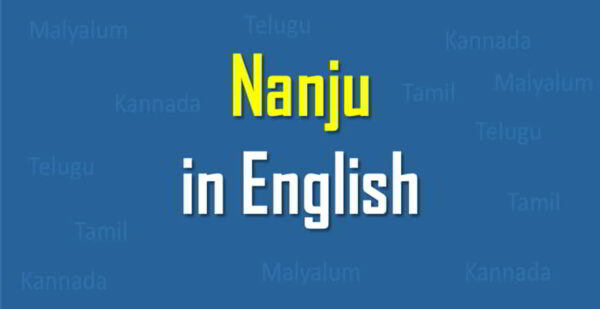 Nanju meaning in Telugu language
Renal dropsy = మూత్ర పిండములో నీరు పట్టుట, నంజు (Nanju).
Munching = నంజుకొను (Nanjukonu): The edible things that we eat while eating main food, such as pickles, chutneys, etc.
Phlegm = కఫం or నంజు (Nanju) నోటిలో గళ్ళ కట్టగడం: It is the thick, viscous secretion of the respiratory passages' mucous membranes that is overproduced particularly during a cold.
Swelling = నంజు(Nanju): A part of the body that has abnormally grown larger than usual. It is usually as a result of unwanted fluid buildup.
Mounth Ulcer =  నంజు కురుపులు (Nanju kurupulu/Noti pundu) నోటి పుండు లేదా నోటి కురుపులు: Aphthae in mouth, an area of the tongue or mouth where small ulcers appear in clusters.
Nanju meaning in Tamil
Poison = நஞ்சு (Nanju), விசம்.
Toxins = நச்சுகள்
Nanju Kodi = placenta position
Nanju = placenta (The placenta is an organ that develops in the uterus during pregnancy. A developing baby receives oxygen and nutrients from this structure. Additionally, it cleans the baby's blood of waste materials.)
Nanju meaning in Kannada language
Toxicity = ವಿಷತ್ವ, ನಂಜು(Nanju)
Bane = ವಿಷ, ನಂಜು (Nanju), ಪಾಷಾಣ, ಅನರ್ಥಕ್ಕೆ ಕಾರಣ, ಕೇಡು
Venom = ವಿಷ, ನಂಜು (Nanju), ಕಡುಹಗೆ
Virus = ವೈರಸ್, ರೋಗಾಣು, ನಂಜು (Nanju), ರಸಿಕೆ
Nanju meaning in Malyalum
Nanju = Poison (നഞ്ഞു)
Poricha Nanju = Fried Poison
Chest = Nanju (നെഞ്ചു) നഞ്ഞു
I hope you find the answers that you are searching for in this article. If you want to read our other articles, find some of them given below.