Food plant Falsa, also known as phalsa, is widely grown throughout Asia, mostly for its fruit, and is particularly popular in Southeast Asia. Both raw and ripened fruits from the phalsa plant are eaten, and they are also added to beverages and foods. Here you can find different names of Phalsa or Falsa fruit in English along with its multiple health benefits, interesting facts, and some farming tips. Read the entire article without skipping a single word to learn more about this unusual plant fruit.
Phalsa / Falsa fruit in English
The Phalsa also referred to as Indian Sherbet Berry and scientifically known as Grewia asiatica, is at the top of the list of exotic fruits in our nation.
Indian Sherbet Berry
Grewia glandulosa fruit
Wild raisins
Some people call it as a black currant as the same fruit appeared in black color if ripened completely.
Falsa/phalsa is a sour, acidic fruit that is closely related to blueberries.
Buy Phalsa/Falsa Dried Fruit Online
Benefits of Phalsa fruit in English
Phalsay ka sharbat, a fruit-based drink that can be found in grocery stores and is thought to have cardiac tonic properties, is a cool summer beverage.
To further improve the fruit juices' nutritional value to the diet, additional nutrients may be added during the fortification process.
Foods with a low glycemic index break down carbohydrates more slowly, which is good for diabetics. Because this fruit juice has a low glycemic index, it can be used to manage diabetes.
Low glycemic index foods are also thought to reduce the risk of obesity and coronary heart disease.
Numerous micronutrients (Ni, Co, Zn, Cr, Cu, and Fe) found in this fruit are essential to the body's physiological and metabolic processes.
For people with diabetes, phalsa juice is a great supplement to lower their blood glucose levels.
This fruit juice can lessen the effects of metabolic, neurological, and cardiovascular diseases.
Acid indigestion and other digestive problems can be avoided by having phalsa juice regularly.
This fruit juice contains large amounts of the amino acids taurine, serine, and phosphoserine.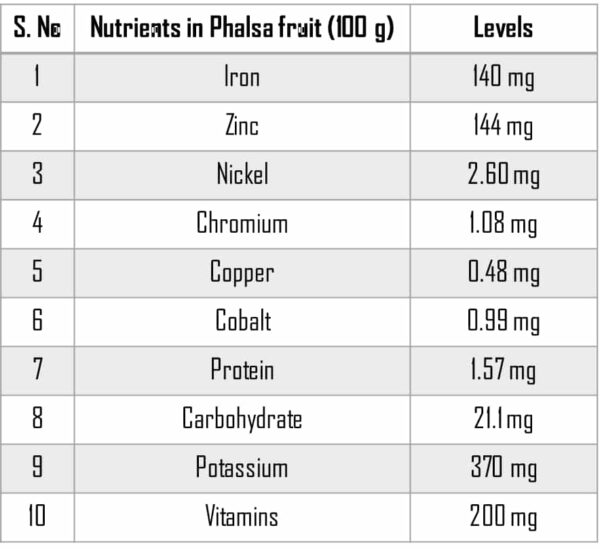 This fruit's seeds were chemically examined, and it was discovered that they contain beneficial fatty acids like stearic, palmitic, linoleic, and oleic.
Phalsa plant leaves are frequently employed in the management of skin infections and the alleviation of pain resulting from any injury.
Phalsa juice is beneficial for people who have sunburns and are experiencing heat stroke.
If you eat this fruit while you have a severe fever, it may help to lower your body temperature.
This fruit may be able to treat brain-related conditions.
For many years, phalsa juice has been used to treat problems with the liver and gall bladder.
Several studies revealed that this fruit could treat neurological conditions that have become much more common in Asian nations.
Phalsa juice could be useful for treating digestive problems like indigestion and high acidity.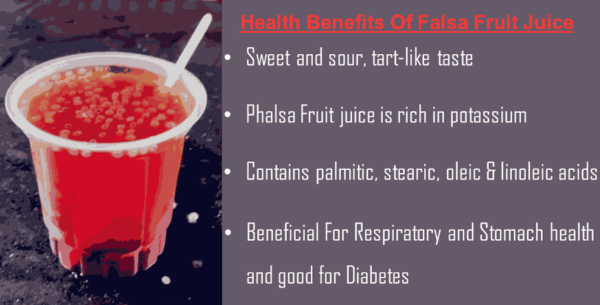 Falsa fruit has also been shown to be effective in reducing itching, and it can also be used to treat eczema and scabies.
This fruit has both vasorelaxant (reduces pressure on blood vessel walls) and antispasmodic (prevents or reduces convulsions or spasms) properties.
Methionine and threonine, two nutritionally important amino acids, can also be found in both pulp and seeds of phalsa fruit. For the heart to work properly, the body requires large amounts of threonine, which keeps the heart's muscles and connective tissues strong and elastic. While methionine is an antioxidant. It might be able to shield the body from ionizing radiation's harmful effects and helps the body detoxify dangerous substances like heavy metals. It might also stop acetaminophen poisoning from causing liver damage. Therefore, eating this fruit, either raw or juiced form, is very beneficial for our body's ability to function properly and combat several health issues.
Some researchers claimed that despite having wide-ranging beneficial properties, more research is needed on the molecular mechanisms underlying these therapeutic properties.
Facts about Falsa/Phalsa fruit in English

Grewia asiatica is a dicot shrub and a member of the Grewioideae family.
The Southeast Asian plant phalsa, which can reach heights of up to three feet, is actually quite widespread in tropical Southern Asian countries, including India, Nepal, Thailand, Pakistan, and others.
This small, sour, purple fruit is a seasonal gift from nature that is overabundant from late April to early June in many regions of Asia.
The plant's entire body, including the flowers, fruits, leaves, and roots, have medicinal properties. As a result, there is a very high demand for this plant in Asian Ayurvedic medicine.
Some researchers consider this fruit a promising functional food as it offers multiple benefits.
Currently, extracts from phalsa leaves, roots, and fruit are utilized in a variety of Ayurvedic formulations for the treatment of various diseases.
Smooth muscle relaxants are made from phalsa fruit and it is widely used in traditional medicine.
Numerous pharmacological studies have shown that these fruits contain compounds called phenols, saponins, tannins, and flavonoids.
The fruit is frequently used to produce juice, squash, and carbonated beverages, which are considered the most beneficial liquids in the summer because of their soothing effect.
The Falsa plant not only produces a tasty edible fruit but also has a number of medicinal advantages due to the fruit's anti-cancer, anti-diabetic, anti-inflammatory, antifungal, and anti-bacterial properties.
Falsa fruit can cause allergies in some people, so before consuming excessive amounts of this fruit, make sure you don't have any allergies to this fruit.
Fruits have antihyperglycemic, radioprotective, antioxidative, and anticancer properties; leaves have antiemetic, anticancer, antimicrobial , and antiplatelet properties; while stem bark has analgesic and anti-inflammatory properties.
An active ingredient in Falsa called "asiaticoside" has demonstrated promising results in the fight against cancer and other diseases.
Farming tips for Phalsa in English
According to some research, phalsa fruit extract may be able to control plant pathogens and be applied to integrated plant disease management. Therefore, growing the Phalsa plant alongside valuable and pest-sensitive crops on agricultural land could reduce pathogen infections and reduce yield loss.
It can survive and thrive in harsh climatic conditions, such as frost and drought environments, and can therefore be used as a substitute food crop to maintain food security. To increase the likelihood of Falsa's establishment and overall yield, hot, dry areas are ideal for cultivation.
Phalsa can currently be grown using seed, vegetative propagation, grafting, layering, and other techniques.
But the most common technique for establishing a phalsa crop successfully is through seed propagation.
However, in some agricultural fields, farmers use plant cuttings to propagate the crop in order to reduce seed costs, as the seeds also exhibit lower viability than those of other wild crops.
1200 to 1600 seedlings are needed per hectare, and planting is typically done with 2.5 to 3.0 meters between each plant.
Within three weeks of sowing, seeds will begin to germinate, and plants typically produce their first fruits within 12 to 16 months after transplantation.
Seed should be sown 2 cm deep in raised beds to get a 90% germination rate.
Moreover, to increase seed germination rates, watering raised beds with a sprinkler rather than a channel is preferable.
This crop can survive for a longer period of time without water. Therefore, its cultivation can be done with a minimal water source. Plants, however, perish when water lags for a longer period of time close to their roots, so land that does not have adequate drainage for rainwater is not suitable for cultivation.
Frequently Asked Questions
1. What is Phalsa fruit called in English?
Answrer: Indian Sherbet Berry, Grewia glandulosa fruit, or Wild raisins
2. When to harvest phalsa sherbet berry?
Answer: Summer is very appropriate to get more yield.
3. How to grow phalsa fruit?
Answer: Some important tips have been noted in this article, read the complete article to get a comprehensive understanding of this crop.
4. Is falsa a blueberry?
Answer: It is not a blueberry but falsa is a member of the berry family, and despite being closely related to blueberries, it is frequently confused with them.
I hope you find complete information about the phalsa fruit in English and I suggest reading some other topics given below.