Indian Kodo millet is a traditional grain that is currently grown in Uttar Pradesh in the north, Andhra Pradesh, Karnataka, Kerala, and Tamil Nadu in the south.
Kodo millet, one of the nutri-cereals, has the potential to be very significant in supplying the nutrients our bodies need.
Additionally, expanding the cultivation of these millets could transform the global effort to end hunger and malnutrition.
Kodo millets are nutritionally superior compared to major cereals.
The nutritional and antioxidant potential of Kodo millet grains was examined through several phytochemical studies in order to determine their suitability for use as healthy foods.
Some studies claim that these grains contain higher concentrations of phenolic compounds and have strong antioxidant activity.
Nutritional Value of Kodo Millet
High levels of vitamins and minerals are also present in Kodo millets, particularly B-complex vitamins, B6, niacin and folic acid, Fe, Ca, Mg, K, and Zn.
Kodo millet is very simple to digest, making it a good ingredient for products intended for babies and the elderly.
The major functional phenols in these grains include ferulic acid, cinnamic acid, taxifolin, and catechin.
They also contain significant amounts of protein, crude fiber, minerals, and carbohydrates, making them a good source of nutrition with additional health advantages.
Kodo millet foods are superior because they contain special types of carbohydrates that allow for a very slow release of sugar into the bloodstream.
However, the processing methods have a big impact on the nutritional value and digestibility of millets.
Kodo millet carbs per 100g have been given in the table…….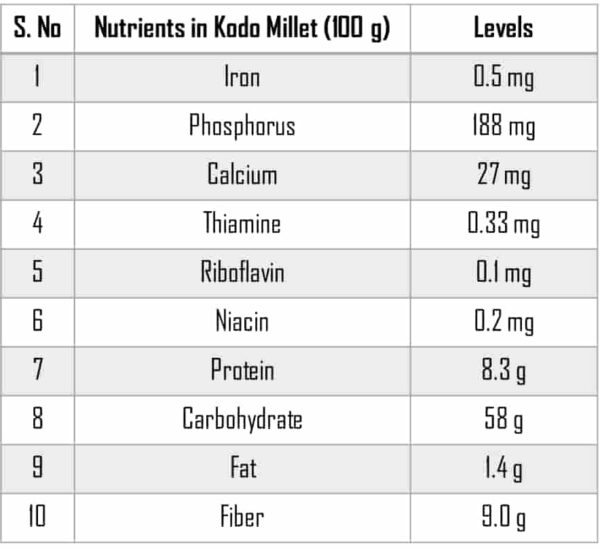 According to some studies, as these millets have functional phenols, they could show potent antioxidant properties as well as the ability to inhibit pathogenic bacteria like Staphylococcus aureus, Enterococcus faecalis, Bacillus cereus, and Leuconostoc mesenteroides.
Kodo millet can be used as a functional ingredient for the management of obesity because some studies have shown that it reduces the effects of high-fat diet-induced changes in our body.
Generally, a high-fat diet increases weight gain, reduces glucose tolerance, causes dysbiosis in the intestinal beneficial bacteria, and increases serum lipids in humans.
This Kodo millet is a low-fat diet, so it can control all the effects induced by a high-fat diet and maintain healthy body weight.
Vegans frequently eat millets because they are a great source of protein. In comparison to animal proteins, they are thought to be excellent plant proteins with very little saturated fat.
Benefits of Kodo Millet
Consuming this millet frequently enhances glucose tolerance.
Foods made from Kodo millet stop serum cholesterol from rising.
The slow release of glucose from millet starch results in a low glycemic index, while dietary fiber is important for gastrointestinal health.
Kodo millets increase the levels of acetate and the overall production of short-chain fatty acids.
Additionally, this millet stimulates the development of gut probiotic bacteria, which are helpful microorganisms.
These grains reduce systemic inflammation, hepatic steatosis, adipose tissue hypertrophy, and weight gain.
It has been discovered that chickpeas can lower blood glucose and cholesterol levels. Therefore, the combination of Kodo millet flour and chickpea flour not only nutritionally balances the protein-carbohydrate needs but also helps as a good raw material for a healthy alternative snack for present snack-craving people with many health disorders like obesity, which leads to diabetes, cardiovascular diseases, etc.
Due to their high fiber, mineral, vitamin, macro- and micronutrient, and phytochemical content, they also offer more significant health benefits and can be used to treat chronic diseases.
Millets can be a convenient, all-encompassing, and cost-effective meal if they are a regular part of a diet.
The dietary fiber, mineral, and vitamin contents of the majority of millets were found to increase during germination and fermentation.
Overall, according to some scientific studies, this millet could be used to create healthy foods or nutraceuticals that fight obesity and comorbidities.
I hope this article provided you with the relevant details you were looking for. Read the articles below if you need to learn more about any other topics.